Geothermal - Technology and Style
Earth Energy Systems is Western Wisconsin 's geothermal installation leader. Earth Energy is ready to help you save money with geothermal.Its free energy from the earth!
HOW GEOTHERMAL ENERGY WORKS
Your own backyard has the potential to be a geothermal energy source for heating and cooling comfort. Outdoor air temperatures fluctuate throughout the year with the changing seasons. In contrast, ground temperatures about four to six feet below the Earth's surface remain relatively moderate and constant all year. That's because the Earth absorbs 47% of all the heat energy that reaches its surface from the sun.
Below are just some of the many advantages of a Geothermal solution.
Geothermal heat pump systems use 25-50% less electricity than conventional heating or cooling systems
Incredible efficiency (300-600%!)
Up to 77% less emissions than electric resistance heating with standard air condition equipment
Geothermal heat pump systems require less space than conventional HVAC systems
Geothermal heat pump systems run significantly quieter than conventional HVAC systems
Naturally renewable and non-polluting
Provide heating and cooling in one system
No danger of gas leaks or carbon monoxide poisoning
Many states offer tax incentives for Geothermal systems
Visit GeoComfort for more info...

STANDARD FEATURES OF THE GEOCOMFORT SYSTEMS
Non-Ozone Depleting R-410A Refrigerant
Bolted Together Cabinets, not screwed
All Panels Removable for Easy Service
Coated Air Coils For Extended Life
Bidirectional Expansion Valve
Variable Speed ECM Blower Motors
Corrosion-Proof, Stainless Steel, Drain Pans
Copper Coaxial Water Heat Exchanger
Flow Switch Protected
Fault Retry To Eliminate Nuisance Service Calls
High Efficiency Copeland Scroll Compressors
ETL Certified to UL & CSA Standards
AHRI Certified to ISO Standards

OPTIONAL FEATURES
Cupro-nickel Coaxial Water Heat Exchanger
Hot Water Generator (Desuperheater)
Field installed internal electric heat
Extended warranties
Ask Earth Energy Systems about Geothermal Heating & Cooling in WI.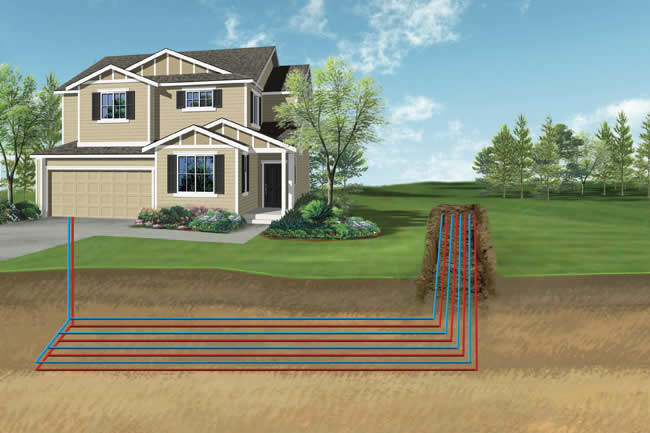 | | |
| --- | --- |
| Horizontal Loop | Pond Loop |
| | |
| Vertical Loop | Open Loop |
GeoComfort Systems ProductsCOMPASS GX SERIES TWO-STAGE FEATURES:
Two-Stage Operation
Multi-Positional Vertical Cabinet
Upflow, Downflow, Right Hand Return, Left Hand Return
2 through 6 Tons (Size 024 & 036 Coming Soon)
GT SERIES TWO-STAGE FEATURES:
Two-Stage Operation
Horizontal and Vertical Configurations
Optional Split and Hydronic Heating Combination Units
2 through 6 TonS
GS SERIES SINGLE STAGE FEATURES:
Single Stage Operation
Horizontal and Vertical Configurations
Optional Split Compressor and Air Handler Units
1.5 through 6 Tons
COMPASS GWT SERIES FEATURES:
Two-Stage Operation
Radiant Heating Ready
2 through 12 Tons
Energy Star Qualified